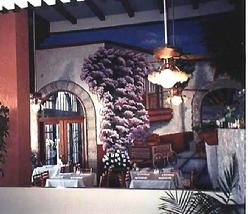 Casa Grande. 300 sq. ft.
The Casa Grande Restaurant mural on 11th St. in Tracy is 300 sq. ft. Measuring 15 ft. x 20 ft., the mural took 100 work hours. Click on Casa Grande and see before and after pictures.
The Golden Ox Restaurant mural is located on Kettleman Lane, Hwy 12 in Lodi, California. The owner, John Patronas, originally commissioned local artist, Terry Irvine, to paint just the train. A few years later, Mr. Patronas commissioned Anggelyka V. Apostle to add himself and another friend riding their motorcycles. A.V. Apostle then added the Lodi archway background and Mr. Patronas' daughter as the train's engineer, as well as a friend waiting at the train depot. The Mural is 8 ft. x 50 ft. and took 130 work hours. Click on top "Golden Ox" to see complete mural.
The Continuation of Stephen Hawking, is mural rendering that has yet to be funded.